I wrote last week about how I initially met my illustrator. But how did she become my illutrator I was asked this past week.
I was actively searching for one before we met and had some interest both locally and from overseas.  As it turned out neither of them were able to complete the project.  At the same time I was looking at creating a video for one of my poems. I  put a post online to see if anyone wanted to lend a hand over the Queens Birthday long weekend.  Having just met Sylvia via the Tank Man Tango she said could help as she had the day off uni.
It was during the course of the day that we got talking about what we were both individually working on.  I sent her the manuscript as soon as I returned home, and shortly thereafter I had the first draft of one of the illustrations and knew I'd found the artist I had been looking for and they were in my own backyard.
Unfortunately I haven't been able to get any more poetry videos done since that one.  But I do now have this wonderful picture hanging on my wall.  A very special gift commemorating our 12 months of creating together.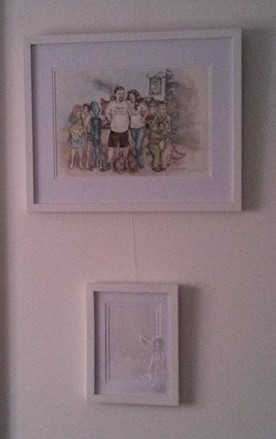 What's memory do you hold dearest  from the past year?