Overdownunder came to Ballarat on Saturday, the first stop of a 300+ leg journey covering over 36,000 kms.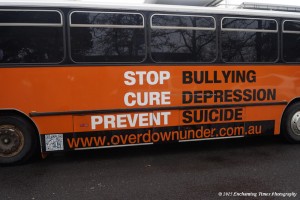 After hearing about this great undertaking weeks ago I knew I had to get there and support them.  I only wish I were able to do more to help them in there mission.  It is a cause that hits very close to home.
I've covered the topics in both my short stories and poetry, and my upcoming exhibition as part of the Ballarat International Foto Biennale is another chapter of my own journey through these murky waters.
It was a very wet and cold start to their trip, thankfully the 2 local newspapers were on hand to greet Sandra as she arrived.

You can read the Couriers article here and The Miners will be out this Thursday.
If they are passing through where you live please support them.