Having been invited earlier today to perform some of my poems in New York City next year I've spent the day reminiscing on my first trip to USA.  So many similarities to Australia yet so many differences.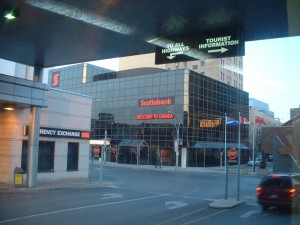 One of my most vivid memories was the border crossing between USA and Canada.  Travelling from Canada to USA via bus I had to take all my luggage off the bus so they could go through it all.  They also didn't think I had enough money in my wallet despite having about $100 in USD another $100 in Canadian and $100 in AUD and all transport and accommodation already paid for.  They made me go take another $500 out of the ATM for a 2 week holiday.
Travelling back into Canada from the USA across the same border but in reverse was as easy as yes you look like you do in your passport come one in.  I was staggered at the difference.
What travel stories do you have?