"Spring, also known as springtime, is one of the four temperate seasons, succeeding winter and preceding summer. There are various technical definitions of spring, but local usage of the term varies according to local climate, cultures and customs."
In my own words, spring means the end of winter and a promise that summer is on the way. One of the photos that partly inspired the creation of the inaugural Master Collection this year was shot during this past Spring. As much time and dedication I commit to developing this hobby that has helped keep me alive since the accident I'm still surprised sometimes when I capture photographs like that one. I won't be revealing those extra special 13 photographs until the 2021 Ballarat International Foto Biennale is underway.
In the lead up to the BIFB2021 I'll be releasing an NFT a day. I decided to release them using the Enjin Jumpnet Network due to it's free transactions and negative carbon blockchain.
There isn't enough wall space to print all the photographs for my upcoming exhibition. I haven't decided yet which ones I will print, so if in the coming weeks you fall in love with one let me know. It could be an interesting exercise to allow you to curate my exhibition. The calendars and limited edition prints will go on sale once the exhibition has been installed. If you want to secure your favourite before then buy the NFT which comes with a copy of the physical photograph. I'm releasing the below image across my social media platforms today.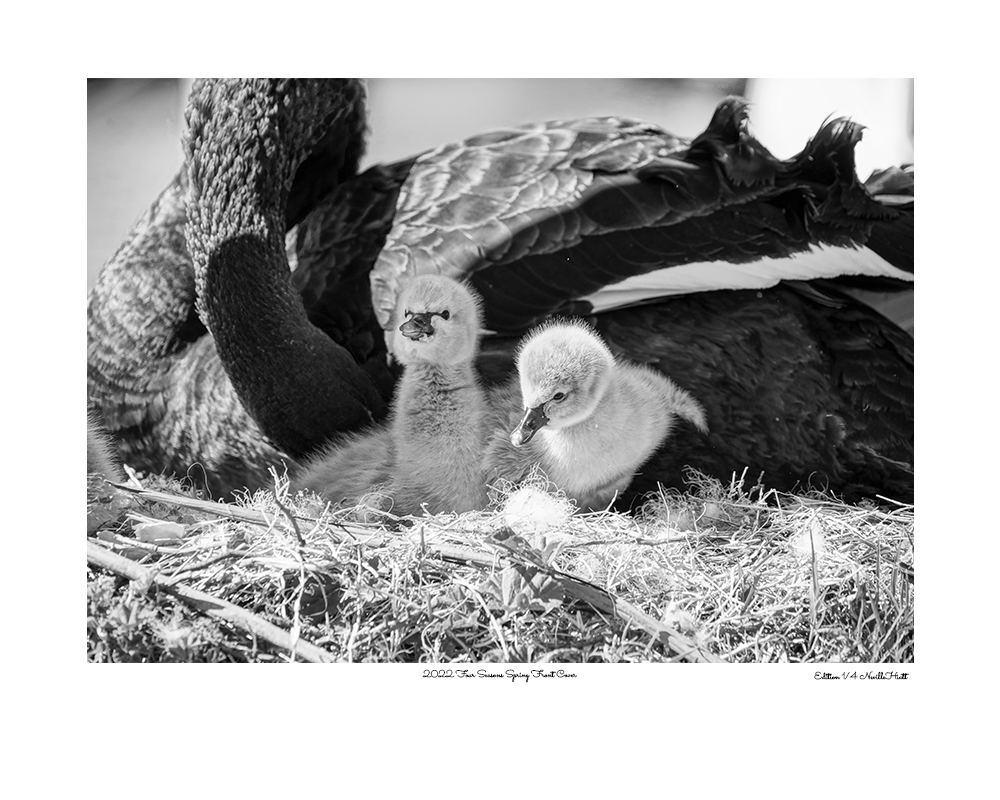 I'd love to show you all the Spring ones in this post but that would spoil the fun over the next 2 weeks. I don't want to leave you without anything though so let's see how close your imagination can get based on these descriptions.
The front cover – Have you ever read or heard me say how much I love Signets? I love them even more in black and white.
January – Sunrises and Sunsets the hardest and easiest things to photograph. Easy because they happen every day. Hard because they rarely look as spectacular as this one. To capture the ones photographers share you have to sit through a lot that though peaceful experiences are not very colourful.
February – So you already know how much I love Signets, especially in black and white. Will you add this photograph of these adorable fluffies to your art collection?
March – A baby rainbow lorikeet. It was about half the size of an adult one.
April – Pelican one, Pelican two, oh hello fluffy. Another beautiful photograph for black and white fans.
May – Ducks and ducklings are some of the hardest to photograph. All the other birds seem reasonably content for you to take their photograph. Ducks however are one of the shyest and I was fortunate to be able to shoot this photograph before they all plopped into the water and swam away.
June – The bronzewing pigeons are a group of pigeons native to Australia which have distinctive iridescent wing patches that appear bronze or green-brown in dull light, but flash in many bright colours in the sun as the bird moves. I fell in love with its colouring as soon as I saw it on top of a little birdhouse.
July – Is it a turtle or a tortoise? Do you know the difference? Can you identify this one sunning itself on the rocks?
August – A colour photograph very similar to this one is in the Master Collection. Maybe you love this one more. That's art isn't it, people have different opinions. From the curve of the tree to the expression on the koala's face, to the clouds in the background. When you photograph them often enough occasionally you'll click the shutter when all the elements align.
September – I try to keep my photographs in these collections as nature orientated as possible. It's rare I include people or things made by them. This photograph of a pelican in flight is one of those exceptions.
October – The Galah, also known as the pink and grey cockatoo or rose-breasted cockatoo enjoying the end of another day of being able to fly anywhere it wants, whenever it wants. Oh to be a bird.
November – Featured in some of the advertising for my BIFB2021 exhibition. A kookaburra sits alone in a leafless tree against a cloudless blue sky.
December – It's sunsets like this one that almost brings a tear to Neville's eye as he remembers how special it was to watch the clouds turn pink. Breathing in the smell of the lake as the colours reflected in the water.
It's sad that so many beautiful photographs from this past Spring didn't make the cut but that is all part of being an artist. I pray the 13 I chose, bring some extra joy into your life.
Now I've got two bonus offers for you while stocks last. Anyone paying for an NFT or a Limited Edition of Four Print will get a complimentary copy of the limited edition of 12 2022 calendar that the photograph is featured in. This offer is only valid while the stock of the calendars lasts. Once they are sold out, the offer is null and voided.
Thanks to Eagle Point Cottages in Gippsland everyone who pays for an NFT or limited edition print from the 2022 Four Seasons Range before the 31st October 2021, will be placed into a draw for two nights off peak for two people valued at $320.