I love happy snail mail. I love it a lot. I shared with you last Monday about the lovely letter I received in response to my latest book.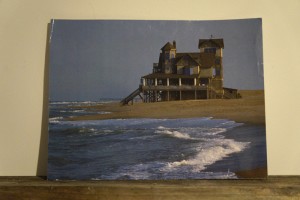 Today I want to share with you this supersized postcard I received. I should have photographed it next to a ruler to show you the true size but think the size of 4 standard postcards .  Not only is it the largest postcard I have ever seen it holds special meaning being a photo of the house from the movie Nights in Rodanthe.  With my own travels having been limited these last few years, whenever I hear of a friend going somewhere I ask them to send me a postcard.  Sometimes someone actually does, which really brightens my day.  When I heard that a friend I had met through the world of poetry was going to Rodanthe I begged her to send me a postcard with a photo of the movie house.  I was so excited when it arrived.  It is now sitting on the top shelf on display in my dining room for all to see.
Do you still send friends snail mail or is all your communication online now?