"Summer is the hottest of the four temperate seasons, falling after spring and before autumn. At or around the summer solstice (about 3 days before Midsummer Day), the earliest sunrise and latest sunset occurs, the days are longest and the nights are shortest, with day length decreasing as the season progresses after the solstice. The date of the beginning of summer varies according to climate, tradition, and culture. When it is summer in the Northern Hemisphere, it is winter in the Southern Hemisphere, and vice versa."
In my own words I love the warmth of summer. Not having to wear multiple layers to stay warm is wonderful. When it's too hot overnight to sleep not so wonderful. It's easier getting up early for sunrise photographs and thankfully this past summer wasn't filled with bushfire smoke like the one before. One third of this year's inaugural master collection was shot during this past summer. I won't be revealing those extra special 13 photographs until the 2021 Ballarat International Foto Biennale is underway.
In the lead up to the BIFB2021 I'll be releasing an NFT a day. I decided to release them using the Enjin Jumpnet Network due to it's free transactions and negative carbon blockchain.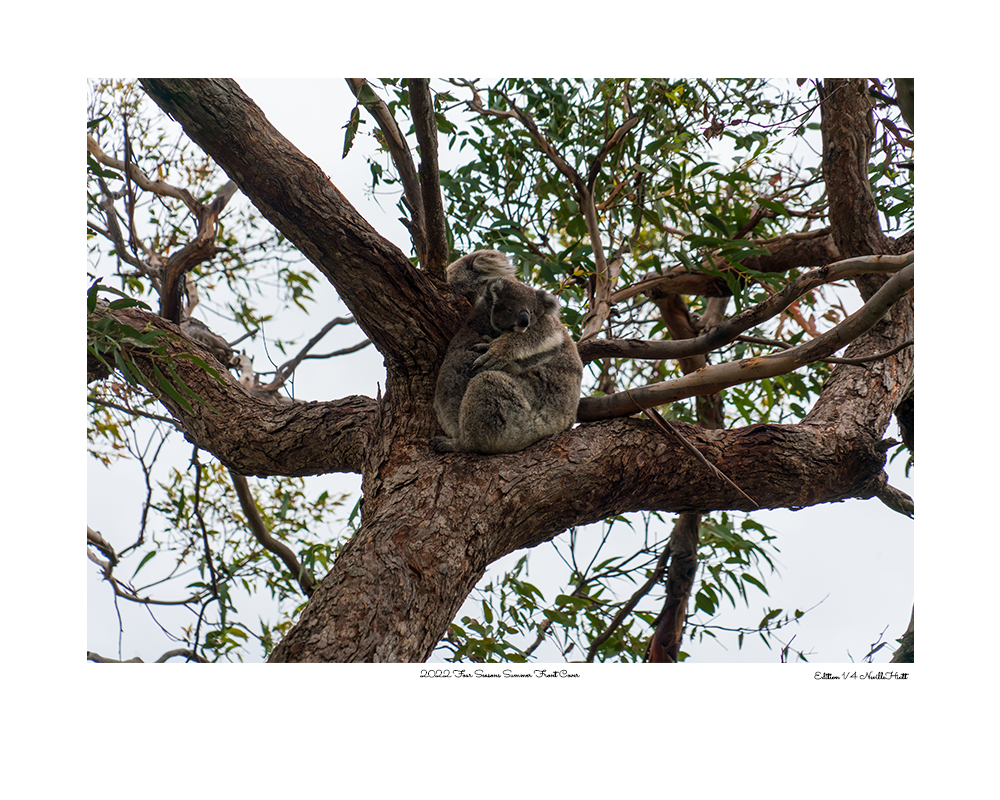 There isn't enough wall space to print all the photographs for my upcoming exhibition. I haven't decided yet which ones I will print, so if in the coming weeks you fall in love with one let me know. It could be an interesting exercise to allow you to curate my exhibition. The calendars and limited edition prints will go on sale once the exhibition has been installed. If you want to secure your favourite before then buy the NFT which comes with a copy of the physical photograph. I'll be releasing the above image across my social media platforms tomorrow.
I'd love to show you all the Summer ones in this post but that would spoil the fun over the next 2 weeks. I don't want to leave you without anything though so let's see how close your imagination can get based on these descriptions.
The front cover – Do you love hugs? I love hugs. Any time you see me if you want a hug all you have to do is ask. It was a very special day capturing this photograph of a koala joey in a loving protective embrace.
January – A perfect inspiration for a painter as the colours of the early morning sky are reflected in the water.
February – Earthy tones are blended throughout this photograph. A wet signet sits on the nest its parents built. One foot still in the water.
March – If you look closely you'll be able to see at least one mosquito photo bombing this echidna.
April – One of two pelican photographs in this collection. Some may think it would be better if the Balck Swan was facing the camera. I feel it is more fitting with a black swans personality to be snubbing me while the pelican gives a perfect profile pose.
May – The Rainbow Lorikeet's aren't fond of sitting still for long whenever I try to photograph them. I love how thye hop over the ground when not flying or hiding in the trees. This one wanted you to see it.
June – There are usually an abundance of koalas on Raymond Island to photograph. They can often be not in photographable positions. I couldn't have possed this one better if it was my trained pet. Don't touch wildlife.
July – A pair of Major Mitchell's cockatoo (Lophochroa leadbeateri), also known as Leadbeater's cockatoo or the pink cockatoo.
August – A pelican in stealth mode cutting through the water hunting for a fish.
September – Two koalas for the price of one. I aim to please.
October – The second Rainbow Lorikeet in this collection. Do you think this one has some attitude?
November – Signets, I love them. So adorably fluffy.
December – Picking a single sunset from 3 months of shooting is harder than picking my favourite animal photograph. This one made the cut from a location I rarely shoot sunrises from.
It's sad that so many beautiful photographs from this past Summer didn't make the cut but that is all part of being an artist. I pray the 13 I chose bring some extra joy into your life.
Now I've got two bonus offers for you while stocks last.
Anyone paying for an NFT or a Limited edition of Four print will get a complimentary copy of the limited edition of 12, 2022 calendar that the photograph is featured in. This offer is only valid while stock of the 2022 calendars lasts. Once they are sold out, the offer is null and voided.
Thanks to Eagle Point Cottages in Gippsland everyone who pays for an NFT or limited edition print from the 2022 Four Seasons Range before the 31st October 2021, will be placed into a draw for two nights off peak for two people valued at $320.
$5 from each Limited Edition Four Seasons 2022 Calendar & $50 from each Limited Edition Four Seasons 2022 NFT or Print will be donated to the Sanghaya Foundation. These donations will help fund microfinance loans for women rescued from human trafficking so they can run their own businesses.