After months of painfully difficult work Neville Hiatt has had his short film "Identity (Who Am I?)" accepted into the 2023 Focus on Ability Short Film Festival, Australian Open Documentary Short Film category.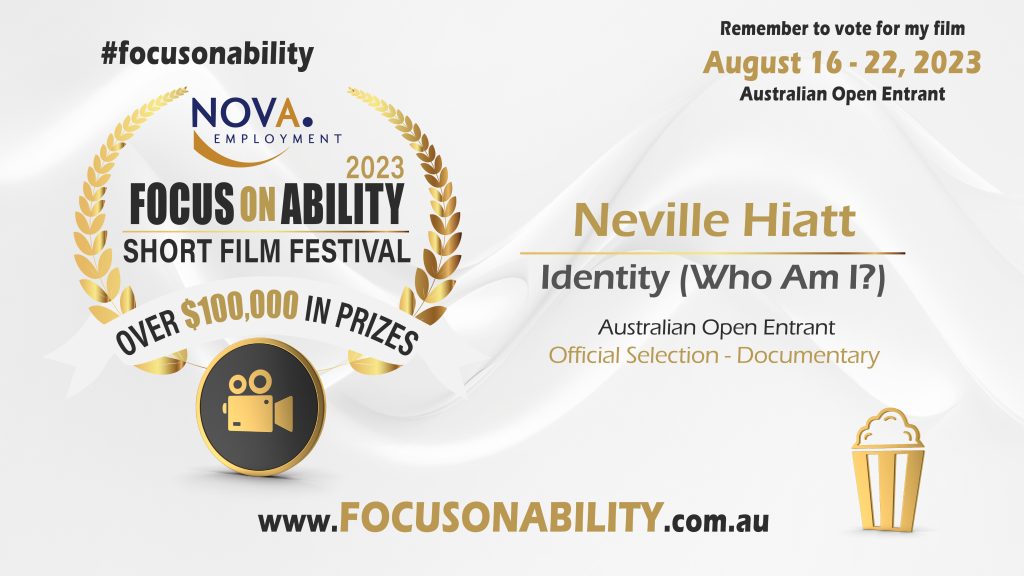 Neville Hiatt's debut documentary short film, Identity (Who am I?) explores an age old question that is widely discussed in our current society. Creating a short film was a challenge while living off grid with a painful frozen shoulder after shattering his collar bone last year. Neville didn't let the difficulties he has faced this year prevent him from creating a documentary as unique as he is.
Slices of Neville Hiatt's life have been published over the years. "Born to be me" was published in "Moments in Time", and "Intermissioned" was published in "The Eighteen Point Five". "My life in 100 words" won the Melbourne Writers Festival & ABC Radio Ballarat Memoir Competition in 2015. "Identity (Who am I?)" is another slice of the pie that has been his life thus far.
Neville Hiatt is a creative Australian known for his photographs and writing. He has known adversity from an early age and is a firm believer of the saying it isn't what happens to us but what we do with what happens to us that's important. After his latest accident he hasn't let the difficulties he has faced stop him from creating and encouraging others.
The Focus on Ability Short Film Festival is an annual event with entrants required to make a less than 5 minute short film or documentary focusing on the ability of a person with disability. There are multiple prizes to be awarded by the judges including best short film, best screenwriter, best director and best producer. The films will soon be available to watch online at https://www.focusonability.com.au/ and on their YouTube channel. Public voting for your favourite runs from Wednesday August 16th – Tuesday August 22nd.