After months of painfully difficult work Neville Hiatt has had his short film "Elise's Blanket" accepted into the 2023 Focus on Ability Short Film Festival, Australian Open Short Film category.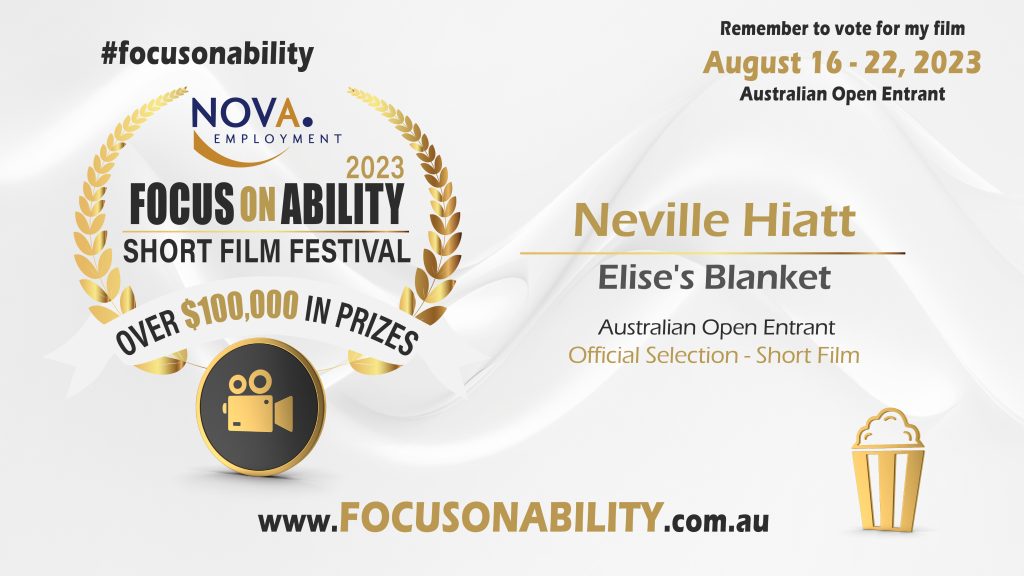 Elise's Blanket originated as a children's picture book in 2016 celebrating the connection between an uncle and his niece. The story was further developed with assistance from the Writability program, after winning a disability scholarship from Writers Victoria in 2018. Still yet to be published as a picture book turning it into a short film felt like a wonderful opportunity to share the joyful story with the world. Elise's Blanket doesn't mention Unka's missing arm in the words of the story. It was important for Neville to show Unka's family don't treat him any differently than if he wasn't an amputee. It instead shows how he is able to travel the world taking photos one handed.
The original story of Elise's Blanket was a natural extension of Neville Hiatt's love of travel and photography and how much he missed family and friends near and far due to the isolation he lived with after an accident in 2008. Having survived some of the worlds worst lock downs in recent years the importance of staying in contact with loved ones has again been highlighted. Learning to animate the illustrations in 2023 was made more difficult with a severely frozen shoulder after a badly broken collar bone in 2022. Neville didn't let the difficulties he has faced this year prevent him from creating his first animated short film as unique as he is.
Neville Hiatt is a creative Australian known for his photographs and writing. He has known adversity from an early age and is a firm believer of the saying it isn't what happens to us but what we do with what happens to us that's important. After his latest accident he hasn't let the difficulties he has faced stop him from creating and encouraging others. He has a few more stories waiting to be shared with the world. A slice of his own story can be seen as one of the 2023 Focus on Ability Film Festival Australian Open Documentary entries.
The Focus on Ability Short Film Festival is an annual event with entrants required to make a less than 5 minute short film or documentary focusing on the ability of a person with disability. There are multiple prizes to be awarded by the judges including best short film, best screenwriter, best director and best producer. The films will soon be available to watch online at https://www.focusonability.com.au/ and on their YouTube channel. Public voting for your favourite runs from Wednesday August 16th – Tuesday August 22nd.