I love the colours of Autumn. The photograph I chose for the front cover of this years calendar features an iconic kookaburra eating on a bed of fallen leaves.
January – I've wanted to capture these little birds for years but they are fond of flying away too quickly.
February – A kangaroo joey happy at home in it's mother's pouch.
March – An rosella in the Australian bush.
April – An iconic Australian Magpie set against a crisp blue autumn sky.
May – Asleep or awake I love photographing koalas.
June – This image has grown on me so much it has become the background image on my computer.
July – I showed this to someone while editing these images and they replied "Oh you're a professional".
August – A moody kangaroo in the shade.
September – When you visit for an hour rather than a minute, you see more than just a colourful bird like this dancing rainbow lorikeet.
October – I captured a few shots of this gull in flight. It was difficult to select just one, I hope you enjoy the one that made the final cut.
November – When you take the time to appreciate beauty it's amazing how much more you can see.
December – A boat I've shot for multiple years now. Each image is uniquely different.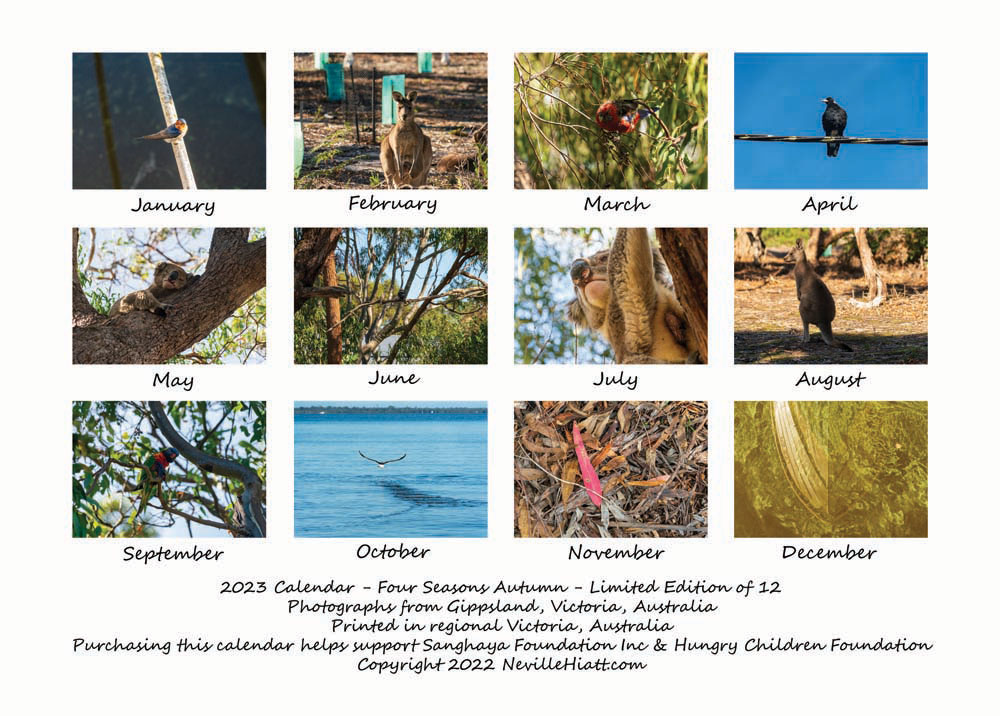 Printed in regional Victoria, Australia on 250gsm satin paper.
This year I'll be making a donation from every calendar sold to both the Sanghaya Foundation Inc & Hungry Children Foundation, two causes close to my heart.
2023 Four Seasons Autumn calendars are available while stocks last.
If you want to see them as I did for the first time when they arrived from the printers enjoy this unboxing video.