I love the freshness of the air in Winter. A fellow photographer lent me a drone for a road trip I undertook this year for a friends memorial service. Having an injured foot at the time meant I wasn't hobbling far. Another friend volunteered to drive me and during a two week trip I saw the world through a very different lens. There are so many sights waiting to be appreciated both in nature and man made that are all too easy to drive past. I could have flown and missed out on appreciating so many natural and man made wonders. I've collated my favourite 13 photographs from that journey for Four Seasons 2023 Winter Edition.
The photograph I chose for the front cover of this years calendar features an aerial shot at The Entrance, New South Wales.
January – Shot on the coast of New South Wales so close to the Queensland border you could see it.
February – Mowed into the grass was this heart on the side of the road in the Yarra Valley, Victoria.
March – Sunrise on the coast at Pambula Beach, New South Wales.
April – I timed it just right to see this hang glider take off in Newcastle, New South Wales.
May – Chronologically this was the first photograph I shot in this collection just outside of Orbost, Victoria.
June – Three of the photos in this collection are from The Entrance, New South Wales. This Ariel shot features pelicans in the center and seagulls on the right.
July – This unique artwork is located on the outskirts of Beechworth, Victoria.
August – From the air things look different than from land, like this cutout rock at Tathra, New South Wales.
September – This photograph features the Newcastle ocean baths and is the second photograph in this collection from Newcastle, New South Wales.
October – Gundagai in New South Wales is famous for the dog on the tucker box. Less famous is this blue tree on the side of the road.
November – The amount of different textures to capture at The Entrance, New South Wales has me yearning to go back there again, and for longer.
December – This picturesque spot is on the New South Wales coast just before you get to Queensland only meters away.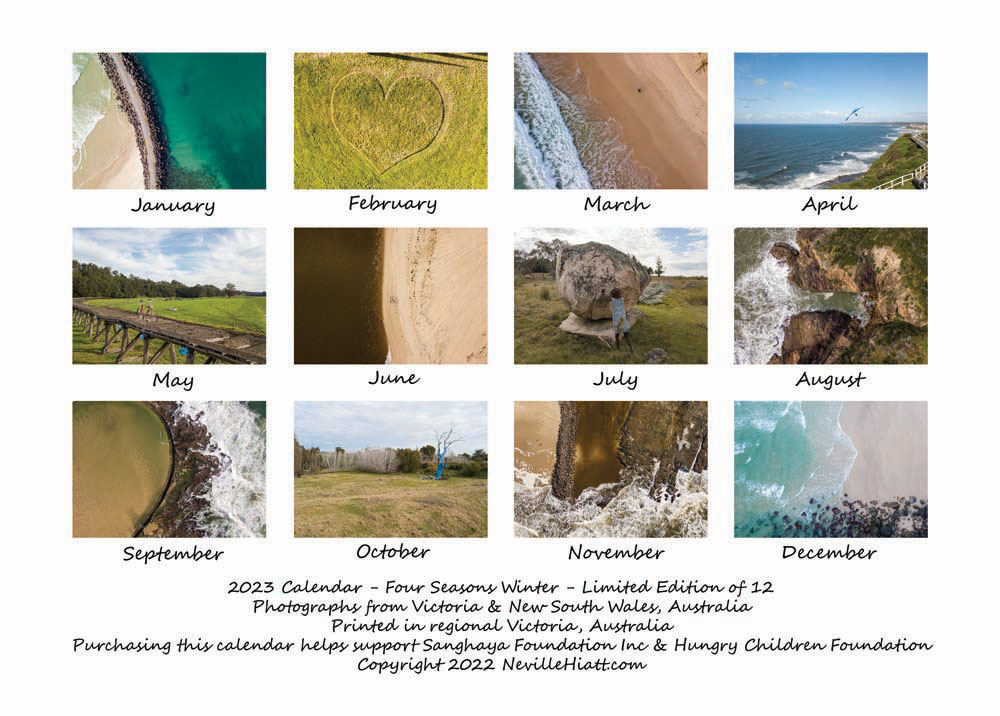 Printed in regional Victoria, Australia on 250gsm satin paper.
This year I'll be making a donation from every calendar sold to both the Sanghaya Foundation Inc & Hungry Children Foundation, two causes close to my heart.
2023 Four Seasons Winter calendars are available while stocks last.
If you want to see them as I did for the first time when they arrived from the printers enjoy this unboxing video.