From the flowers to the animals giving life to their next generation I love Spring. The photograph I chose for the front cover of this years calendar is from the Ballarat Botanical Gardens. Personally I prefer tulips before they open up, but these were so colourful I wanted to share them with you.
All photographs were shot during spring 2021.
January – A signet still in it's fluffy newborn stage, at home in its nest in Gippsland.
February – A Ballarat bee pollinating a fragrant spring blossom tree.
March – An inquisitive Gippsland koala joey posing for the camera.
April – A peckish rainbow lorikeet enjoying a snack in Gippsland.
May – A Ballarat butterfly stretching it's wings in the early morning light.
June – A single flower floating in the water at the Ballarat Botanical Gardens. See February in The Master Collection for another shot from the same day.
July – A Gippsland echidna foraging for sustenance among the bright pink daisy flowers of the Australian native pigface.
August – A Ballarat kookaburra pausing momentarily after chowing down a hearty breakfast.
September – A cockatoo stretched in full flight riding the air currents in Gippsland.
October – A Ballarat tulip and daffodil still wet from the overnight rain.
November – A Gippsland kangaroo joey at home in it's mothers pouch.
December – Tranquil hues of orange and yellow made this Gippsland sunset over the still water my favourite for Spring.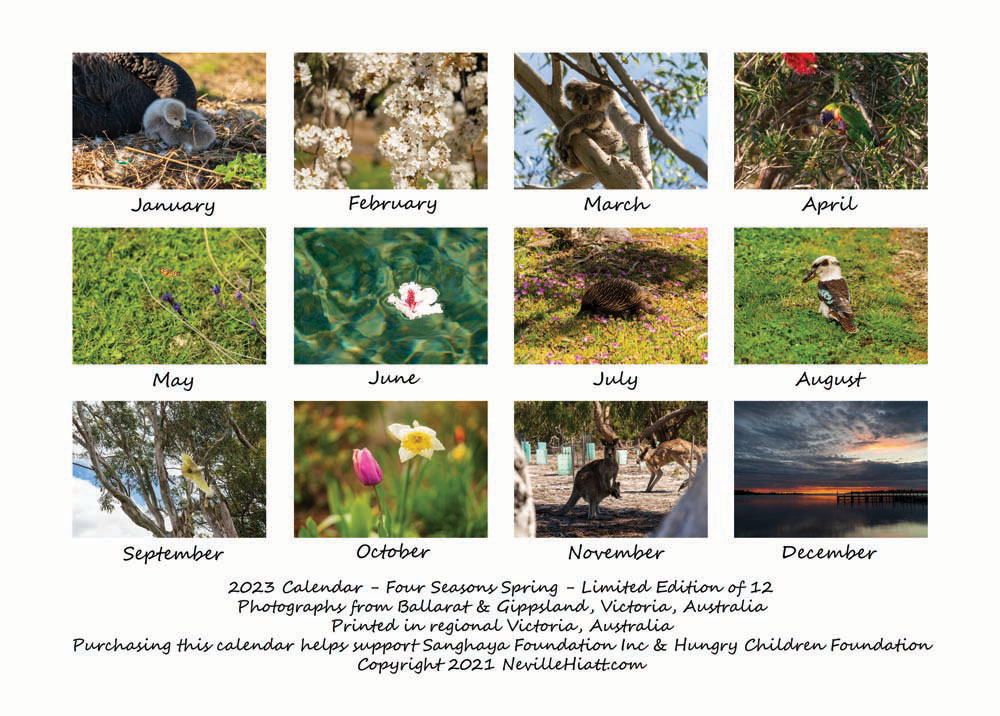 Printed in regional Victoria, Australia on 250gsm satin paper.
This year I'll be making a donation from every calendar sold to both the Sanghaya Foundation Inc & Hungry Children Foundation, two causes close to my heart.
2023 Four Seasons Spring calendars, cards, wall prints are available while stocks last.