Every year for the past few years I've shot each season according to the Australian Calendar. At the end of Winter each year I make the difficult short list selections from each season. Then the even harder decisions are made culling the short list down to the final 13 from each season. Sometimes an easier decision and sometimes a harder decision is which photographs I'll use in the Thanksgiving Collection (previously the Master Collection). This is my yearly calendar range I don't sell but give to bless those that have blessed me during the past four seasons. If you love the photographs they are available as limited edition wall prints and some feature in my merchandise range.
Every year I get some wanting the cover image replicated as one of the months inside the calendar but if I did this I'd only be able to select 12 and you'd miss out on seeing one of these photos. As it is there are many beautiful photos that didn't make the final selection. If you represent a large organisation I'd be happy to share some of these photos with you in your own custom 2024 calendar. Contact me before the end of October to make it possible to get them to you before the end of the year.
One change in the 2024 calendars from the previous years is some extra photos on the date pages. When you think you have worked out how I selected those photos let me know and find out if you are correct.
Although each season is photographed in Gippsland, Victoria, Australia they each have their own unique feel.
2024 Four Seasons Thanksgiving Front Cover: The last photo I took before shattering my collarbone. The file number ends in 911 though the emergency services number in Australia is 000 I still found this interesting.
2024 Four Seasons Thanksgiving January: Not only trees in this aerial photograph of Stony Creek at Toorloo Arm. What else can you see?
2024 Four Seasons Thanksgiving February: Rainbow Lorikeets in a tree on Raymond Island.
2024 Four Seasons Thanksgiving March: A koala among the ferns on Raymond Island.
2024 Four Seasons Thanksgiving April: A signet posing on Burabogie Island.
2024 Four Seasons Thanksgiving May: An aerial photograph at Lake Tyers Beach, what does it look like to you?
2024 Four Seasons Thanksgiving June: The June photograph from the 2023 master collection was my wallpaper on my computer up till being replaced but this photograph. I don't know if it's the same kookaburra and noisy minor birds but I do love the friendship they have.
2024 Four Seasons Thanksgiving July: A kangaroo on Raymond Island.
2024 Four Seasons Thanksgiving August: A Noisy Minor on Raymond Island.
2024 Four Seasons Thanksgiving September: An aerial photograph of the Australian coastline at Lake Tyers Beach.
2024 Four Seasons Thanksgiving October: A Rainbow Lorikeets on Raymond Island.
2024 Four Seasons Thanksgiving November: A koala and joey on Raymond Island.
2024 Four Seasons Thanksgiving December: Jelly Fish with a bonus fish in the water at Raymond Island.
Which photographs are your favourites from this years four seasons collection?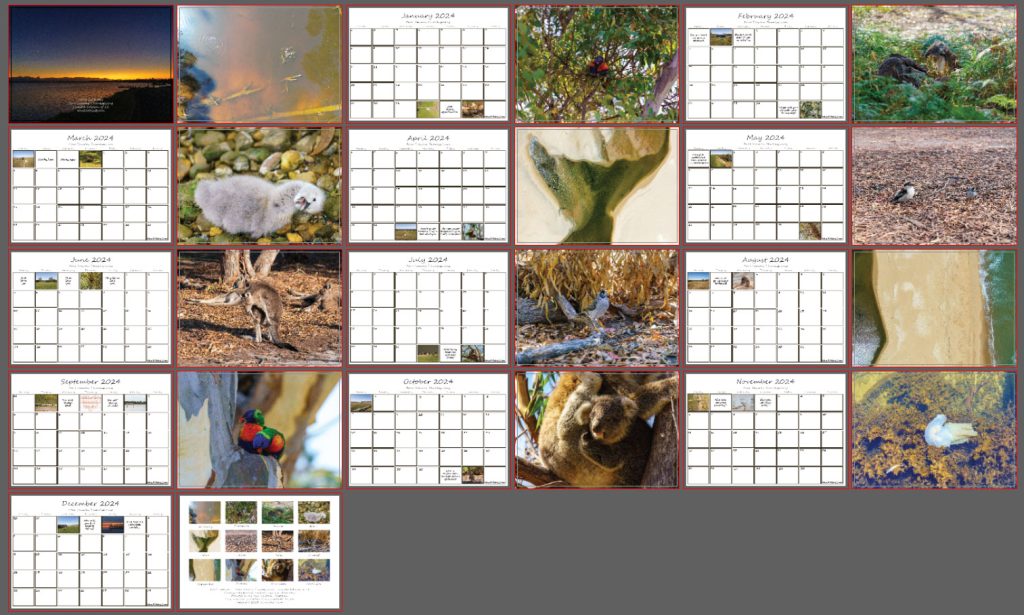 The past four seasons have been difficult for me to live let alone shoot enough to produce this collection. Breaking my collar bone badly and then getting a severely frozen shoulder has led to a very limited year heavily relying on the assistance of others. I'm grateful to the friends and family that aided in being able to shoot enough to share with you these beautiful photographs. I did wonder along the way if any of the seasons wouldn't happen. Unfortunately the yearly marshmallow farmer collection which I shoot across all seasons didn't get shot. If you want to give me some extra incentive to shoot a 2025 collection pre order now.
The limited edition 2024 Four Seasons wall prints are available now.
A limited number of blank greeting cards, magnets, and coasters have arrived from the printers if you would like some. Next month I'll be officially launching a variety of usable and wearable merchandise, including jewelry.
Start your Christmas shopping now and order calendars for friends and family today, before they sell out. If you are close enough for local delivery contact me directly with your wish list and save on online fees.