Not long after exhibiting at the Ballarat International Foto Biennale in 2015 I applied to be in Immerse 2016. Similar to the BIFB which brings art to the people taking over any available wall space across a multitude of venues Immerse takes over a section of Melbourne. Unlike the BIFB which is only open to photographers Immerse is open to a variety of art forms. I was thrilled when I was accepted and that was the birthing of Journeys II.
Taking what I had learned as a photographer, storyteller, editor, researcher, location scouter, set designer, costume designer, director, from Journeys, I set about telling another story. Similar yet different. I challenged myself even more with this second series than I had with the first all while still dealing with the after affects of sliding down the highway through peak hour traffic years prior.
As much as I've used a female as the lead character in both these stories it would be dishonest of me to not admit they are infused with elements of my own life story. Getting this story to the exhibition wasn't an easy task. The original model I had lined up to feature in the whole series pulled out so I was left searching for a replacement. The one I wanted said no when I asked them. Days later they changed their mind and I am grateful they did. I'd never worked with them before but I am honoured to have had the experience of working with them.
Being a model or actor is not their occupation which was also the case for the model in the original Journeys series. Unlike the original series I chose to show her face in Journeys II. Shooting Silence Broken I had originally thought of not showing her face but during shooting I wasn't feeling the connection I wanted, but the emotion connected once her face was revealed.
During the shooting of both series I was grateful for their commitment in going above and beyond to get the shot. Silence broken was shot while it was raining, I might have had an umbrella over me and the camera thanks to a wonderful assistant that day but she did not. I didn't schedule the rain but it helped with the feel of the photograph and not many would be willing to stand in cold rain in the main street with people walking past wondering what we where doing.
Journey II also included more people from the storyteller of the series, the radio interviewer in "Everyone has a story to tell" to those in the group from "Together". It's healthy to ask for help either from a professional, friends, family or others going through something similar. This process is rarely a quick fix. It's usually a first step in the right direction.
This series ends with her needing to make a choice of which path she will choose.
I shot this series again in selective colour but eased up slightly my self imposed restrictions on post editing. This is most evident in "self". I'd never attempted a shot as technically challenging as this one before but I am still happy with the final result. I was almost ready to create the set for Childhood as I couldn't find the location despite looking in multiple locations. My persistence finally paid off.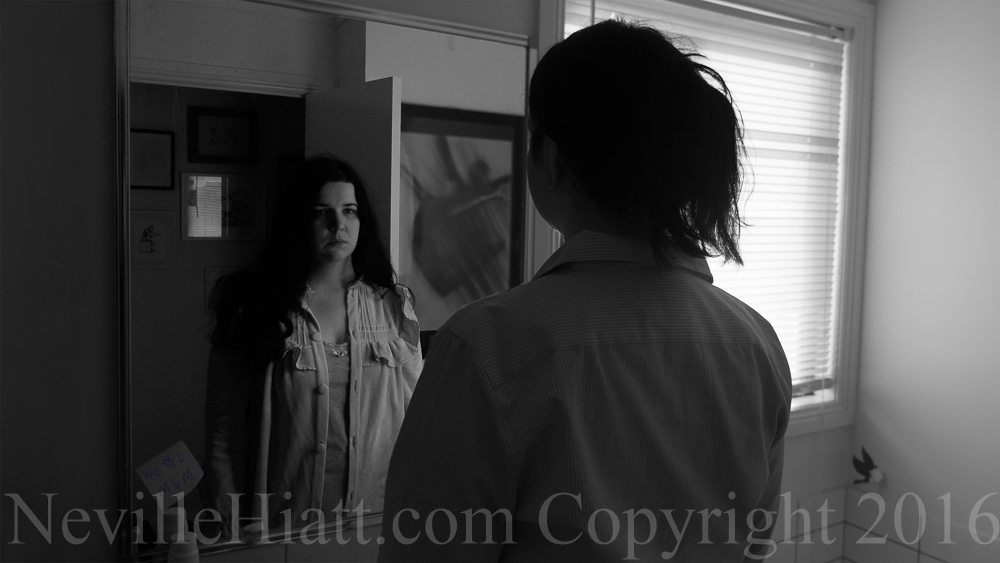 The creation of both series has been a story of overcoming life's obstacles. What ever you are facing right now please don't give up. I could have given up on producing these series at multiple points along the way. I didn't give up on telling these stories and I didn't give up on continuing to write my own. If you have no one else to share your story with my inbox is always open.