All because of you I've had another article reach the top of the most popular list on ChristianToday Australia.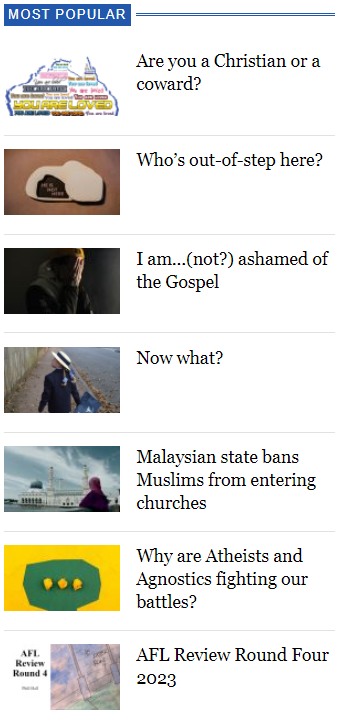 It debuted at no 5 on Tuesday. Went to no 2 on Wednesday, and reached the top spot yesterday.
A lot of research went into this one. Even more than usual yet I had to leave so much out due to the allowed word length. Thankfully since I finished writing it more states in USA have passed laws to protect their children.
One that I would have included but only came online after my article was published is this video from Jordan Peterson.
I could potentially spend the rest of the year writing about this subject. Next month it will be another subject I want to bring greater awareness to. I'm busy researching information for future articles. It feels like I'll have the schedule for the rest of the year full very soon. If there is something I haven't written on yet, that you would like me to tackle let me know your suggestions.
If you want to read Are you a Christian or a coward? Here's the link https://www.christiantoday.com.au/news/are-you-a-christian-or-a-coward.html I almost forgot.
Personal update
If you've been following my healing journey since last years accident, my shoulder is still very painful. I've had a treatment I was waiting over a month for which is slowly starting to help but I'm still spending most of the day trying not to cry. And most of the night trying to sleep. Typing one handed has become the norm because though I can use the other one it's so painful, I'd get a lot less done if I used it to type. I'll keep doing the exercises and using it as much as I can to get back to writing and photographing as I was able to pre accident.
Short film update
The first draft of the documentary I want to enter into a film competition later in the year has been written. No further progress has been made on the short film I want to enter into the open competition but it feels good to have the rough ideas of what I want in the documentary down on paper.